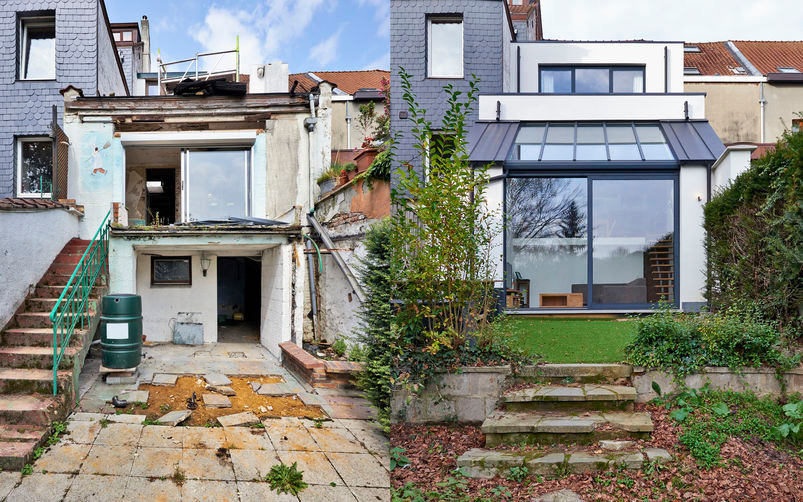 The One Formula Every Wholesaler Needs to Know
March 19th, 2021
Learn how to estimate repairs on any house in 15 minutes or less without a tape measure or ladder.
In order to make offers on deals, you need to be able to quickly and accurately estimate repairs. Follow these simple rules and checklists and you will be making accurate offers in no time.
General Rules:
Round up: Always round increments of $250 up to $500.
Measurements: Always measure in price per unit. (Examples: per item, per square foot, per square, per linear foot, per hour).
Checklist Exterior
Demo: per hour for worker, and per item for dumpster.
Roof: Roofs are measured in squares, not square feet (1 square equals 100 sq ft or a 10 ft x 10 ft area). To determine the number of squares on a roof without a tape measure: eyeball 10 ft x 10 ft sections until you've gone through the entire roof. Once you calculate total squares, multiply that number by the unit cost to get the total roofing cost.
Windows: per item
Gutters: Gutters are measured by linear foot so learn how to walk a 3-foot pace, which is easy with a little practice. Simply pace out the length of the gutter runs and add the downspouts up.
Exterior Doors: per item
Driveway: Cement is measured in cubic yards. To calculate the cement needed, multiply length by width by depth (thickness of the cement).
Garages: per item
Porch/Deck: per square foot
Siding: In many markets, it's common to have brick, aluminum or vinyl siding on the exterior. Vinyl is most often used to replace damaged or old siding. Vinyl siding is measured in squares (like roofing).
Exterior Paint: Painting is measured in livable square feet of the house. Typical cost is $2 per livable sq ft for labor and material. For example, if the total livable sq ft of the house is 1,000 sq ft, the cost is $2,000.
Air Conditioning: per item
Landscaping: $500 is a good estimate for basic landscaping for an average 2,000 square foot home.
Checklist Interior
Demo: per hour for worker, and per item dumpster.
Kitchen Cabinets: Estimating cabinet costs are tricky because cabinets and kitchens come in so many different sizes. But, using a builder's choice modern-looking cabinet, there are 3 general estimates you can use. A typical 1,000 sq ft house is $1,500 for material, $300 for labor (rounded to $2,000). A little bigger home (1,200 sq ft to 2,000 sq ft) typically has a bigger kitchen, which is $2,500 material and $400 labor (rounded to $3,000). A 2,000 sq ft – 3,000 sq ft home is usually $3,500 material, $500 in labor ($4,000 total).
Granite: per square foot
Stainless Steel Appliances: per item
Hardwood Floors: To measure, simply pace the rooms to get a total square footage. Then multiply by the price per square foot to get the total cost.
Carpet: Carpet is measured in yards, which is 3 ft by 3 ft.
Ceramic Tile: per square foot
Bathroom: per item
Drywall: per square foot
Interior Paint: same cost breakdown as exterior paint
Doors/Trim: per item or square foot
Plumbing: ex: water heater, service lines with pex, laundry tub
Mechanical: ex: furnace, chimney liner/thermostat/vent
Electrical: ex: lights, plugs, switches, plate covers, hard wired smoke detectors, GFI's
Odd Jobs: This list is not all-inclusive. Almost always, there are unusual items. With any item, ask yourself, "How much should the material cost, how much should the labor cost, and how long should the job take?"
Punch List: At the end of every project, a good "punch-list" contractor needs to come in and finalize the project. Factor in an extra $1,000 to cover the cost of a punch-list contractor.
Permits
Cleaning
Utilities/Insurance: Don't forget to include utilities during the rehab, as well as property insurance.
Free Rehab Estimator:
To make your life easier, download Jerry Norton's free Rehab Estimator. It includes a checklist of every item so you don't miss anything (and the average costs are built right in). Simply input your approximate measurements (or number of items needed) and the rehab estimate is Done For You… with no math required on your part! To get your free Rehab Estimator CLICK HERE.
Video Tip:
Watch This Video With Jerry Norton where he walks you through a house and fills out the Rehab Estimator!