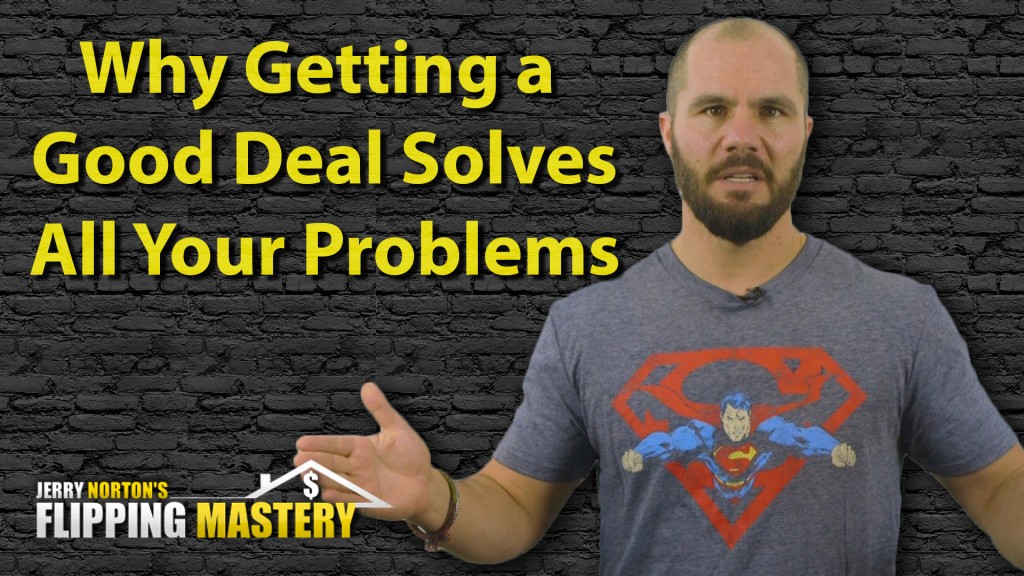 Can getting a good deal really solve all of your problems?
If you think about everything that it takes to do the real estate business (especially if you're renovating homes, fixing and flipping, or doing new construction), you'll realize that there are a lot of steps that go into getting a deal done. In the business of rehabbing or building and selling specs, you have to acquire a deal, manage it, oversee marketing and sales, and get funding. I have found that if you can just get good at finding deals, all of these other things tend to fall into place.

When you get a good deal, 90% of your problems are solved. Let me give you an example: one of my elite mentoring students from my Fast Track program, Nancy, recently found a high end deal. She got the property under contract for $364,000 and needed about $200,000 to cover rehab costs. Her total costs came to about $565,000, but the property would be worth at least $800,000 fixed up, so there was a net profit spread of about $130,000 on this deal. Nancy got a good deal, and since she is a Fast Track student of mine, I helped her find a funding source that would give her all but about $20,000 at a good interest rate of 10%. The hard money lender loved the deal, so she only had to raise a little bit of money on her own. Without any marketing, she was even approached by a buyer that offered to pay her $15,000 for her deal. She could easily wholesale the property and finding funding to complete the rehab was simple. Nancy had found such a good deal that everything else fell into place.
Some of the most common questions I get asked almost daily are: How do I get funding? How do I find a buyer? How do I find a contractor? How do I manage a rehab? The key is to not worry about those things right off the bat. It's all about finding a good deal, and then figuring the rest out because a lot of things will fall into place when the deal is a favorable one.
When you are able to find a good deal, you can make mistakes and still make money. You can easily find the money, contractors, and cash buyers you need if you get a good deal.
Nancy is super excited about finishing her first deal, and if you want to do business like this then check out my Fast Track program, where I work with you directly, one-on-one. It doesn't matter if you're making your first deal or your 100th deal, I want to help you build your business the right way, so check out FastTrackApplication.com now! The process is by application and interview only because I am very selective about who I let into my program. I'm looking for someone that is willing to put in the time, energy, and effort to do business, not chase after a deal. My Fast Track program is designed to help build a business that does deals consistently and repeatedly, month after month. Go to FastTrackApplication.com and start building your future today!
Until next time!
Happy Investing,
Jerry Norton