Discover How to Flip 40 Houses Per Year on
Auto Pilot (Software Included)…
GUARANTEED!
Get Your Hands On Jerry's Highly Coveted Fix and Flip Automation
Tools Suite For FREE (Normally $297)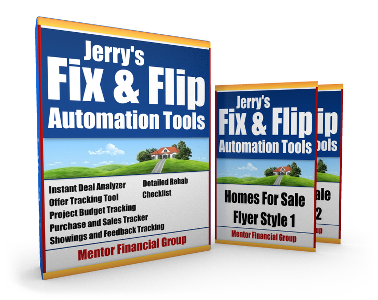 ---
Jerry's Fix & Flip Automation Tools Suite
includes the following…
Rehab Estimate Checklist Tool. No longer guess on what it will cost to fix up a property. With pre-set values, this tool allows you to estimate repairs on any house in 15 minutes or less.
Instant Deal Analyzer Tool. Instantly know how much you should pay for a deal. Does all the calculating for you.
Offer Tracking. Keeps you offers organized all in one place so you always know which deals you're working on
Project Budget Tracking. This amazing tool tracks your actual costs against your original budget and easily tracks your draws paid against your budget so you never how to wonder again if you're going over budget.
Purchase and Sales Task Tracker. Using a color code system, this tool will tell you at a glance, which items need completed every time you buy and sell a property.
Showings Feedback Tracker. Easily track and manage feedback from buyers and realtors every time your property has a showing.
Homes For Sale Flyer Template Style 1 and 2: Jerry's award-winning professional flyers (2 different designs) will help your houses sell quicker and for top dollar.

The Nation's #1 Expert on Flipping houses, Jerry Norton, is giving you his exact suite of automation tools that has allowed him to do 40 houses a year making on average $25,000 per deal!
"…I've been flipping houses for 8 years and never have I seen a more organized way of managing the fix and flip process then with Jerry's automation tools …"
-Jeremy Jackman, Sandusky, OH
---
"…Just 1 of Jerry's tools make me $5,500 more on one deal and he gives you 7 tools!"
-Angelito Barber, Ames, IA
---
"…Your tools have saved me countless hours and thousands of dollars…I've never seen such a systematic approach doing deals…"
-Johnny Santos, Irvine, CA