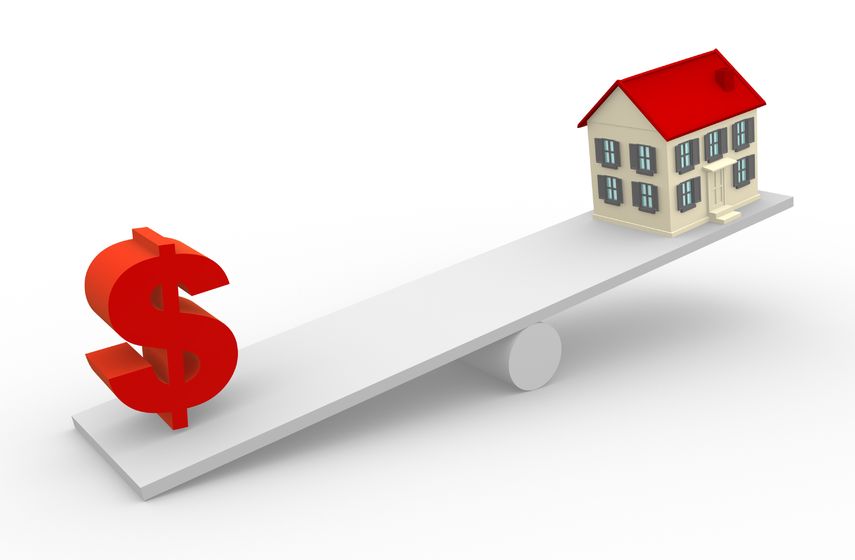 After flipping hundreds of deals over the past 10 years, I've learned that one of the most critical steps when it comes to flipping houses happens in the very beginning of the process before you've even made an offer on the deal….and that is analyzing the deal to determine if:
a). It's a good deal
b). What price you need to acquire it for so that you actually make money on the deal.
This process can be extremely time consuming not to mention down right nerve racking! Think about it…After spending often countless hours analyzing all the numbers on a potential deal, just to make an offer and NOT get the deal. Talk about sucking the wind right out of your real estate investing dream sails.
In this article I'd like to share some ideas to not only become more proficient at analyzing deals but how to drastically speed up the process so you can analyze deals faster, make more offers and get more deals.
1). After Repair Value (ARV):
Let's take things from the very top. When looking at a potential deal, the very first thing you need to understand is the After Repair Value or ARV. This is the price the home will sell for once fixed up. If you're in my lot flipper program (new construction), this is the new home sale price or in other words, what a new home will sell for once built.
Determining the ARV is a process of looking at the most relevant sold comps and determining the average sale price for retail homes in that particular market where the subject property is located. Sold comps are the most important because they represent actual market data as opposed to active listing where the market hasn't decided yet (haven't sold yet).
Here are the 4 basic rules when it comes to analyzing sold comps to determine ARV:
a). Similar in Features: Sold comps must be similar in style of home, square footage, beds/baths, foundation, garage size, lot size, etc. Remember, the more similar to the subject property, the better.
b). Close in Proximity: Sold comps must be in the same market. This means the same neighborhood or nearby location. Remember, the closer the comp is to the subject property, the better.
c). Recent: The values in any given market are measured by actual RECENT data. Ideally comps need to be less then 1 year old but remember, the more recent the comp, the better.
d). Use the Average: The goal is to determine the overall average ARV in that particular market. That means you need to be using enough data to get an accurate average. I recommend at least 5 relevant sold comps that meet the first 3 basic rules already mentioned. Remember, the more comps you have, the better. (See my article here to learn how to use price/sqft to determine the average ARV in any given market)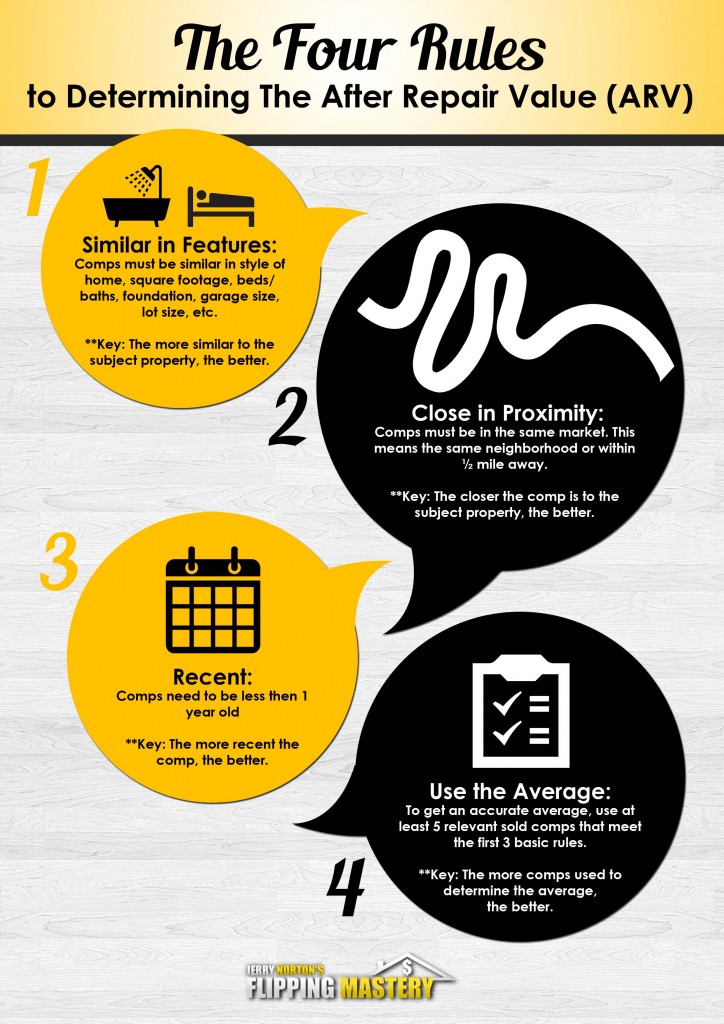 Where a lot of investors make mistakes when it comes to ARV is not having a system for analyzing comps. One method is to put them all in an easy-to-see spreadsheet where you can see all of the data at a glance to compare comps, decide on the best ones and determine the average.
Comp Analysis Screen Shot:
2). Total Cost of Repairs:
After determining the ARV on a potential deal, the next most important number to figure out is the total repair cost. (Cost of construction for building and flipping new homes)
The more familiar you are with rehab costs, the easier and faster it is for you to determine the repair costs when looking at potential deals. That's why I am a big proponent of using sub-contractors instead of (general contractors).
Why You Should Never Hire a General Contractor:
Knowing what it costs to hire sub-contractors to repair each possible item on a house is critical. Without an accurate repair estimate, you can never figure out what the right buy price is to make money on the deal.
The good news is with the right tools and units of measurement, you can learn how to estimate the repairs on any deal in 15 minutes or less regardless of experience. Where a lot of investors make mistakes is by not having a detailed rehab checklist, which often results in missing a lot of vital information that can make or break your deal.
Detailed Repair Checklist Screen Shot: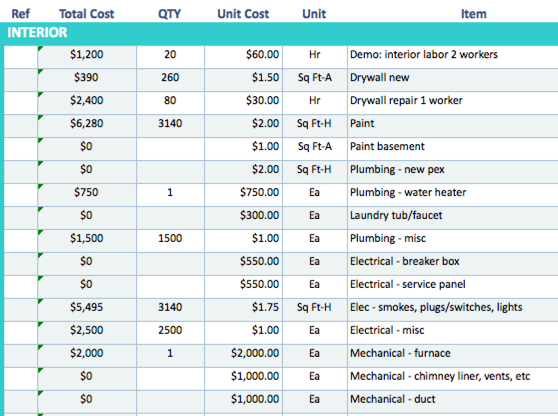 My detailed rehab checklist calculator has all of the possible items on a rehab with the units of measurement (sqft, linear feet, hourly, each, etc) as well as the cost per unit. That way all I have to do is quickly calculate the measurements, input them into my calculator and it spits out my total repair cost.
3). Cost of Capital:
The next number that you must know when analyzing a deal is the cost of capital (if you're borrowing money). Unless you have unlimited cash sitting around, you will probably borrow private money or hard money to do your deal. Even if you're wholesaling, you have to factor cost of capital because your investor you flip it to will more then likely need to factor it in to his/her numbers.
I call the cost of capital my "carrying cost" or in other words how much it costs me to carry the financing on a deal. This cost can make or break your deal. It's less about the cost of capital and more about how long you have the capital in use. In other words, paying 15% for hard money on a deal that takes you 4 months to complete is cheaper than paying 9% for private money if the same deal takes 7 months to complete.
In order to get a grasp on the carrying cost you need to anticipate how long the capital will be in use in addition to the actual cost of that capital. My cost of capital calculator lets me know exactly what it will cost me based on my anticipated turn-around time. I suggest you always factor in extra time for unforeseen delays that seem to always creep in projects.
Carrying Cost Calculator Screen Shot: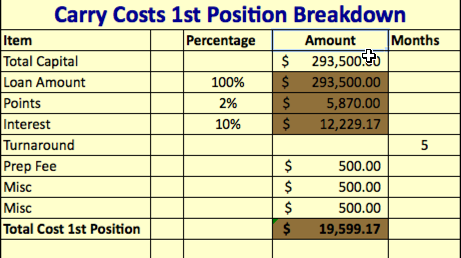 As a rule of thumb and for quick calculations, I usually factor 5% of the ARV for carrying cost.
Putting it All Together…
As a general rule of thumb on every deal I factor 10% of ARV to cover closing costs. This includes fees you pay when you buy and property as well as when it sell it including commissions, title and escrow fees, recording fees, transfer tax, property tax, etc.
I also always factor a min of 20% of ARV for profit, which gives me plenty of room for margin of error if my rehab goes over budget or it doesn't sell for as high as I projected.
Once I know my key numbers, I can calculate my buy price following the 65% formula:
+ ARV
closing costs (10%)
Carrying Costs (5%)
Projected Profit (20%)
Total repairs
= Buy Price
Here is what the formula looks like:
(ARV x .65) – repairs = buy price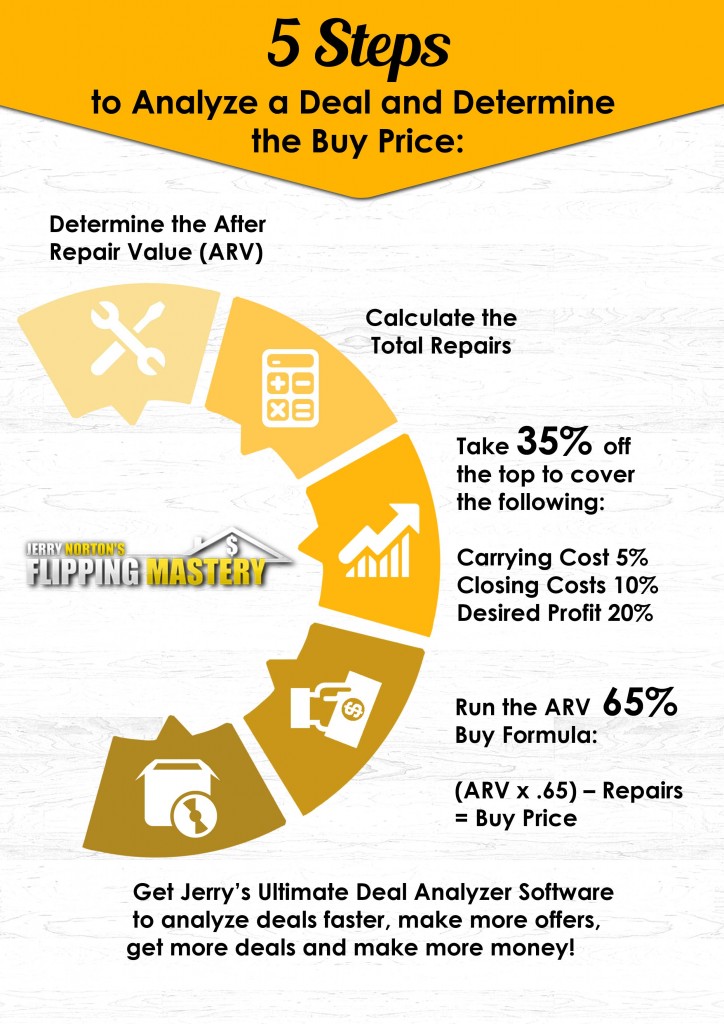 The key to analyzing deals is to be able to do it quickly and accurately. Remember, analyzing deals has one purpose…
To determine what price to offer so that you make money on the deal
It's all about getting to your offer price. Remember, whatever time you spend analyzing deals means nothing and is a waste of time if you don't make an offer and get your deal accepted.
And that's why I developed a deal analyzer software I call, the Ultimate Deal Analyzer Software. I went from spending hours and even days analyzing 1 deal, to being able to analyze 10 deals in a fraction of the time.
Click here to Get the Ultimate Deal Analyzer Software today for FREE so you can analyze deals faster, make more offers and get more deals.
With this software I was able to get more deals faster and make more money and my house flipping business took off. And that's because the Ultimate Deal Analyzer Software is an all-inclusive 3-in-1 custom calculator…
1). Repairs Checklist Calculator:
This calculator has pre-set costs per unit for each item of the rehab. All you do is enter the quantities for each repair item and it will automatically calculate the total repairs. With this calculator, you can estimate the repairs on any deal in 15 minutes or less.
Watch the Rehab Checklist Calculator Tutorial Video:
2). Cost of Capital Calculator:
The second calculator is the cost of capital calculator. Quickly input a few things such as loan amount, interest, points, etc., and it will tell you the exact amount it will cost to borrow hard money or private money to fund your deal.
Watch the Cost of Capital Calculator Tutorial Video:
Watch the Cost of Calculator Tutorial Video:
3). Deal Analyzer Calculator:
And finally the 3rd tool is the Deal Analyzer. Not only does it calculate the After Repair Value using the most relevant sold comps but this is where it all comes together. Using the 20% profit formula and factoring in all the numbers, you will know the price you need to buy the deal and make a profit.
Watch the Deal Analyzer Calculator Tutorial Video:
When you can make offers on deals quickly and with confidence, you too will see your house flipping business sky-rocket like I have and thousands of others. You'll be able to make more offers, and faster and your deals will be more profitable.
I even created an iPhone app version so you can use it on the go.
If you've been spending hours and days analyzing deals just to get beat out by your competition, this free software may be the solution for you. Whatever you do, stop wondering if your offers accurately reflect the right numbers. Take the guess-work out of whether or not you'll make money.
Click here to Get the Ultimate Deal Analyzer Software today for FREE so you can analyze deals faster, make more offers and get more deals.
Leave a comment below and let me know if this article was helpful and let me know if you have any questions about analyzing deals. If you found this article helpful, be sure to share it with others!
Until Next time, Happy Investing
Jerry Norton
Click here to get a FREE copy of Jerry's best selling eBook, "How to Make a Million Dollars a Year Flipping Houses."