House Flipping is defined as buying a house or property with the intent to sell it for a profit.
In today's market, house flipping is becoming more competitive as more people are jumping on the bandwagon. According to Bankrate, "Flipped homes accounted for 4.6 percent of all U.S. single-family home sales in 2013, up from 4.2 percent in 2012 and 2.6 percent in 2011, according to data from RealtyTrac."
As the one of the nation's leading experts on flipping houses, my best selling book, "How to Make a Million Dollars a Year Flipping Houses teaches the average person How to Flip a House. (To get a FREE copy, click here)
If done correctly, you should make $25,000 to $50,000 per deal flipping houses. However, there are many factors that that determine whether you make money or lose money.
In this article, I've researched the 17 Mistakes to avoid so that you stay on the making money side of house flipping as well as resources to help you be more successful…
Mistake #1: Not Having a Team of Experts:
This is the #3 on Bankrate's list of 10 Lethal Mistakes For Real Estate Investors. Your team should include a top producing real estate agent, an appraiser, an inspector, a closing attorney or title agent, a loan officer and a solid team of contractors.
Mistake #2: Flipping in the Wrong Price Range:
While you can make money flipping low-end homes, research from MarketWatch.com found that flipping houses with a "sale price of between $750,000 and $1 million tended to yield investors the best returns, with a 41% average gross return on investment."
Check out one of my before/after rehabs for $750,000:
Mistake #3: Flipping in the Wrong Location:
Without a doubt, certain markets are hotter then others. A hot market is one that has a strong demand for renovated homes. Based on gross profit margin (before factoring in cost of money, closing fees or renovations), MarketWatch.com found the best cities for flipping houses is "Pittsburgh, where the return on investment is 106%, followed by New Orleans at 76% and Baltimore at 73%. Blomquist says that the markets with the best ROI tend to be markets where there is a lingering inventory of distressed properties that you can still buy at low prices and where home prices are earlier on the recovery curve, meaning that they are still appreciating relatively rapidly."
According to MarketWatch.com, Here is a list of the top 10 best cities for flipping homes:
Here is the list of the top 10 worst cities for flipping homes (remember, gross profit is before all other costs such as rehab):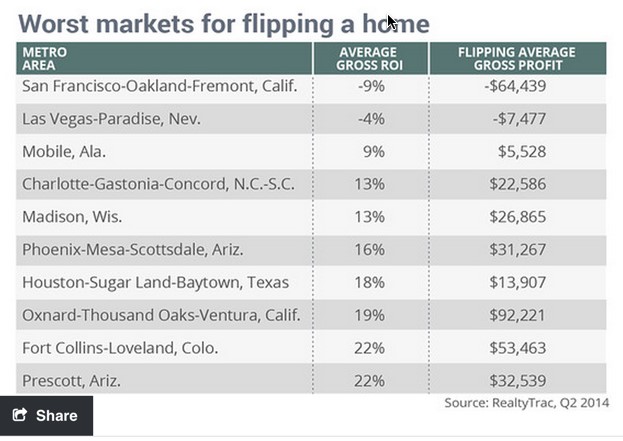 Mistake #4: Not Having a Buy Formula:
A profit is made flipping houses when there is money left over after subtracting all of the costs from the sale price. It looks like this:
+ Sale Price
– purchase of home
– renovations
– carrying costs (utilities, property taxes, insurance, etc)
– financing costs
– closing costs (title insurance, real estate commissions, etc)
= Profit
A simple formula to consider is the 65% formula, which is:
(After repair value x .65) – repairs = buy price
This formula assumes that the desired profit is 20%, closing costs are 10% and carrying costs are 5% for a total of 35% off the top. After subtracting repairs, you are left with your buy price.
I've developed an house flipping deal analyzer app you can get for FREE in itunes.
Mistake #5: Miscalculating the Cost of Repairs:
Estimating repairs is one of the most challenging aspects of successfully flipping houses. House flipping expert, Armondo Montelongo advises flippers to double their projected budget and estimated timeline. This will add significant amounts of cushion to your overall figures and give you much-needed breathing room to maneuver.
Click here to get my FREE training on how to estimate repairs in 15 minutes or less on any house, along with the exact rehab checklist I use.
The book Flipping Houses for Dummies provides a simple checklist to focus on the most important (and profitable) repairs. Here's the list…
Mistake #6: Cheapest House Syndrome:
The cheapest house on the market isn't always the best deal. Armondo Montelongo warns house flippers…"Don't be seduced by the cheapest house that you can find. Oftentimes a cheap house may need more repairs than an average-priced one. For example, a house that costs $70,000 and only needs $10,000 worth of repairs is a much better deal than a house that could be had for $50,000 that comes with $30,000 in repair costs. It's also worth noting that houses in the marginal middle of the price range are usually overlooked by retail buyers and investors alike – giving you ample opportunities to offer lower prices."
Mistake # 7: Unrealistic Sale Price
Unlike TV shows like Flip this House, that portray the selling process as easy when flipping houses, the reality is you need to find the right price to list your property that isn't over-priced resulting in few to no showings while not under-pricing it and leaving money on the table. Look at the most recent sold comps in the neighborhood and decide on an average price. Once listed, you should be getting consistent showings of 3-4 per week or more. If not, slowly drop the price in increments of $5,000.
Mistake # 8: Not Knowing When it's Better to Wholesale Instead of Fix and Flip:
As defined by Wikipedia, wholesaling flips "make a profit by signing a contract to purchase a property from a seller and then entering into an agreement with a third party to resell the same property at a higher price for a profit." I always tell investors, "A bird in hand is better then 2 in the bush." In other words, it's better to wholesale it for a quick $5,000 to $10,000 now vs. rehabbing it and potentially making $25,000 later.
Mistake # 9: Not Adding Enough Value:
According to Business Insider, "[House] Flippers no longer have the luxury of 20 to 30 percent annual price gains to pad their profits," Daren Blomquist, vice president at RealtyTrac said in a press release. "As the market softens, successful flippers will need to focus on finding properties that they can buy at a discount and efficiently add value to."
Mistake #10: Not Having Curb Appeal:
The exterior is the first impression. The interior can be impeccable but if the outside doesn't draw in a buyer, your chances of selling are diminished. Be sure to get feedback on what you can do to make the outside really shine. Often times, this can be accomplished with simple solutions. For example, I once flipped a house that had a large bay window. My feedback from showings was that it looked awkward and negatively affected the curb appeal.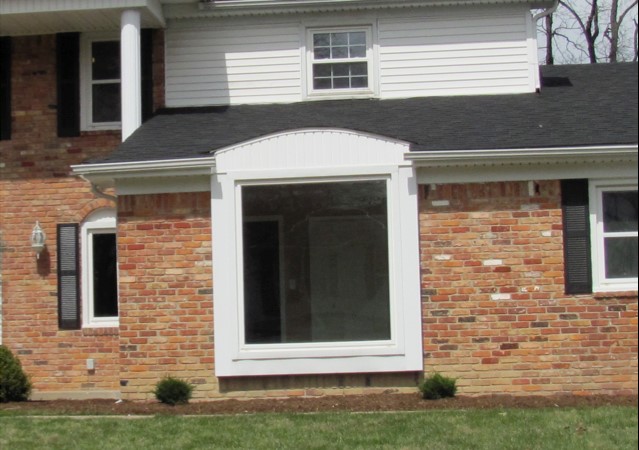 To solve the problem, I planted a Japanese maple tree in front of the window and sold the house on my very next showing.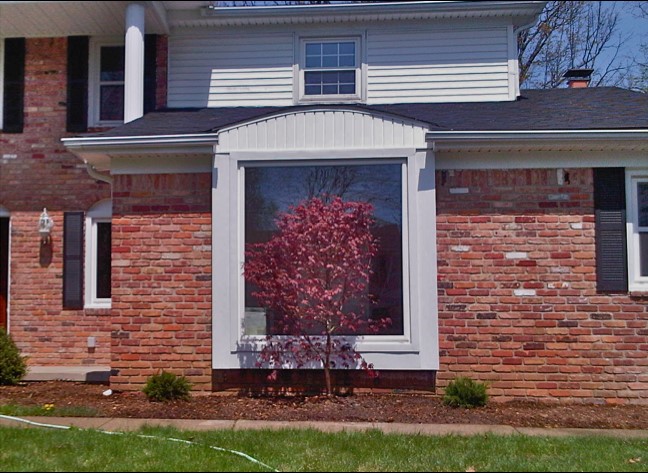 Mistake #11: Not Hiring an Interior Designer:
Most people underestimate how important it is to choose the right style for the particular market. You should ask yourself, "Who is the ideal buyer for this home?" remember, you are not buying the home so what you think doesn't matter. What matters is what the market wants.  Especially on my higher-end flips I always hire and interior designer to choose paint, tile, cabinets, fixtures, etc.
Mistake #12: Holding Out For Top Dollar:
According to the Motley Fool, in their article, 5 Reasons House Flipping Won't Work, "time is the enemy of the house flipper. The longer the house sits on a market waiting for a second buyer the more it costs the flipper. Cash purchases by flippers tie up their capital, and house flippers financing the purchases — a dicey proposition in this climate — face mounting interest payments. All flippers also face the carrying costs that include taxes, insurance, and other maintenance overhead." Often times, waiting another month to get another $5,000 for the homes is a wash since the costs are mounting up.
Mistake #13: Not Having a Mentor:
In the article, Flipping Houses for Profit – Tips for How to Flip a House, Money Crashers advises, "If you know a successful house flipper, ask him to be your mentor. You might even want to consider offering him an incentive to mentor you. For example, in exchange for his hard-won knowledge and advice, you give him a small percentage of your first profit. This way, the mentor is motivated to tutor you, and you ensure the quality of your education. Offering a financial incentive also enables you to approach experts you don't know personally, since they will be compensated for their efforts."
Mistake #14: Thinking You'll Get Rich Quick:
Make no mistake, real estate investing has risks and flipping houses is no exception. Plan on dedicating yourself to learn everything you can. Pay the price to be successful. Not all deals will be a homerun. Even after doing hundreds of house flips, I still have some deals that aren't winners. Don't enter into the house flipping business unless you have a long-term perspective.
Mistake #15: Not Having a Big Enough Profit Margins:
Many investors go into a deal with what I call "skinny" margins. To me, anything less then a desired 20% (of sale price) profit margin is too skinny. Think about it this way…Since there are so many variables such as rehab cost overruns and it takes longer to sell or doesn't sell for as much, it's imperative you have 20%. If things don't work out as planned and you only make 10%, you are still profitable. However, if you go into a deal at 10% desired profit margin and you hit bumps in the road, you could not make any money or worse, lose money!
Mistake #16: Not Understanding the Real Estate Market Cycle:
When it comes to real estate investing, you must understand the different cycles and especially what the current cycle is doing. This will help you when flipping homes. Bigger Pockets created the following illustration showing the real estate market cycle: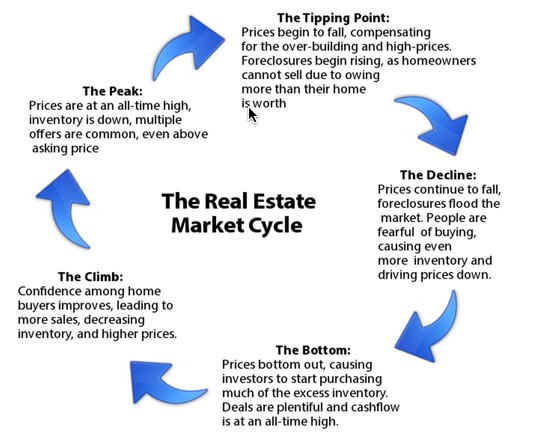 While I believe you can make money flipping homes during any cycle, your strategies for finding, renovating, marketing and selling are going to change in each cycle. What worked in one cycle may not necessarily work in another.
Mistake #17: Doing the Work Yourself:
While many "handy" investors think they can save in labor expense by doing the work themselves, the reality is this limits their ability to do more deals. I call these investors "onesy-twosy" investors. In other words they only do one or two deals per year because they spend so much of their time swinging the hammer. Instead, outsource the work and focus your time and energy on finding more deals and managing the process.
Leave a comment below and let me know your thoughts on this article as well as any other mistakes to avoid I didn't cover here.
Until Next time… Happy Investing,
Jerry