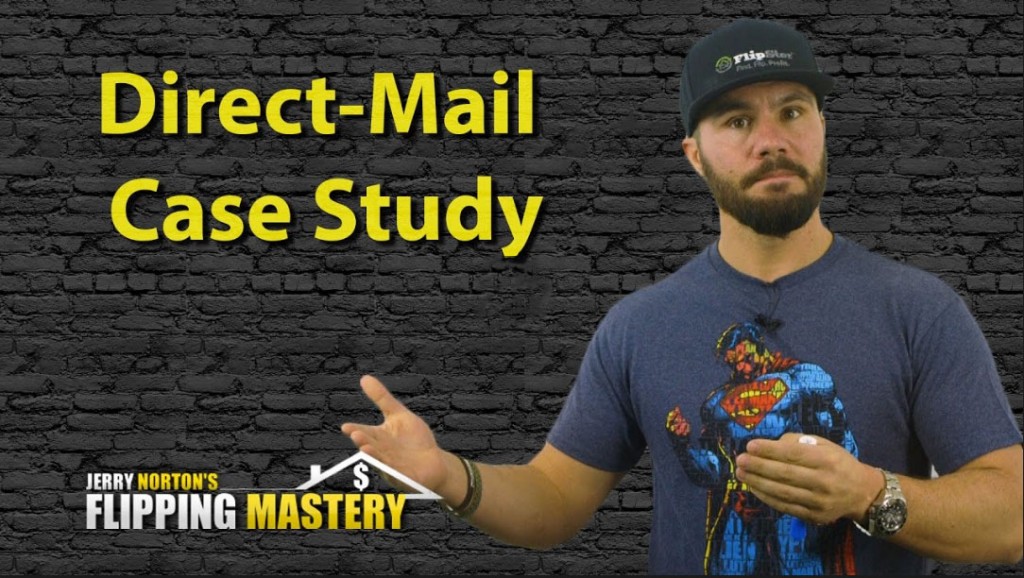 How effective can direct mail be at finding off market deals and leads?
The first key to success is to mail a letter or postcard to a list of people that fit the category of a potential motivated seller (pre-foreclosure, probate, distressed property, absentee owner, etc). Within your mailing, you need to let your recipients know that you're an investor who is interested in buying their property. This is a great way to acquire deals off market, since they are not listed for sale through a real estate agent yet. Off market deals that come as a result of direct mailings can be your best ones, since you don't have to compete for them. This strategy is one I've found myself using a lot more in today's competitive market. There is a much lower inventory of distressed properties on the market nowadays, so by going off market through direct mail, you can reach motivated sellers before they list for sale and go on market.

A lot of investors avoid direct mail because it can be expensive. It is true that there are marketing costs (about a dollar per mail piece), but getting just one deal as a result of a mailing will usually lead to a big ROI. I want to touch on why this strategy is so powerful by giving an example. One of my elite mentoring students in my Fast Track program, Phil, is a really big believer in direct mail. Every week, he consistently mails and over time he has built up the momentum to receive about 20-30 calls a day. He recently shared with me one of the deals he did through a pre-foreclosure direct mail campaign. After sending the mailing, he received a call from a homeowner and set up a meeting. Phil ran his numbers and found that the property was worth around $250,000 as is. Turns out the homeowner owed $175,000 on the existing loan on the property, had lost his job, and was several months behind on his payments… so foreclosure was coming soon. Phil made an offer to take over the existing loan on the property, take over all outstanding mortgage payments (which were at about $5,000), and pay the homeowner $10,000 cash at closing for the keys. This deal was favorable for the homeowner since it would save his credit, keep him out of foreclosure, and allow him a new start at life with $10,000 cash in his pocket.
After paying the homeowner $10,000, taking over the past due mortgage payments, and hiring a lawyer to put legal paperwork together, Phil had spent about $15,000 on the deal. He spent another $300 cleaning the property (nothing else), put a for sale by owner sign in the yard, and was able to get a buyer for $258,000. At closing, after he paid off the $175,000 and accounted for the $15,000, he walked away with $58,000 on what I like to call a wholesale flip. He basically wholesaled the property to a retail buyer, not to an investor which would be more typical. I would consider this a wholesale because Phil didn't rehab the property, he just cleaned it, put it back up for sale and sold it to a retail buyer, so he really just wholesaled it retail. This deal resulted in a huge ROI for Phil's direct mail campaign and definitely made him a believer after clearing $58,000.
I also want to share that Phil does something very interesting with his direct mail campaigns. For my campaigns, I usually mail to the same list three times because my prospects may not be ready to sell right off the bat so I stagger my mailings by two weeks each. Phil, on the other hand, mails to each of his lists six times! He really wants to get in front of his prospects, so he won't consider a list exhausted until he has sent six mailings out to each person on it. The success of a direct mail campaign can be measured by its response rate, or the rate at which the people you mail to contact you. For a direct mail campaign, the goal should be to hit a 1-3% response rate and then turn as many of those leads into deals as possible.
So, how can you make your campaign successful enough to receive a good response rate?
It comes down to two things: your direct mail piece and your list. If you're interested in direct mail, I actually offer an entire direct mail campaign as a part of my Flipster system. Flipster is my deal management system, and you can try out a free 15 day trial of the entire program at Flipsterfor1dollar.com. Be sure to choose a trial of either Flipster Pro or Prime, as those are the versions which offer direct mail campaigns for you. Flipster shows you how to acquire your list, and then guides you through a direct mail tool where you upload your list, pick out your mail piece from a variety of selections, and then fund your account to send your pieces. Everything is done for you and the software is really easy to use. You can do direct mail through Flipster and find off market deals without licking envelopes, worrying about postage, or printing any of your own pieces. This strategy is a great way to get in front of more leads before they get on the market, which is where everyone is looking for a deal. Remember, there is a 15 day free trial being offered right now, so make more money today with Flipsterfor1dollar.com!
Until next time!
Happy Investing,
Jerry Norton